Active Optical Cable (AOC)
Active Optical Cable 
To The Future
Active Optical Cable (AOC) is a new solution of cabling technology that accepts same electrical inputs as a traditional copper cable, but uses optical fiber "between the connectors". AOC uses eletrical-to-optical conversion on the cable ends to improve speed and distance characteristic of the cable without sacrificing compatibility with standard electrical interfaces, there are normal interfaces are HDMI, USB, DVI, DP, SFP and any other types. this AOC technology with the development of 5G and 8K technology, the application of AOC has become more extensive and keeps pace with the times.

Fully-bandwidth and Long Reach Signal Transmission System
8K Ultra HD, Support 7680*4320 Resolution Transmission.
Detachable Design for Engineer Tube Cabling Solution.
High-fully bandwidth and long-distance signal transmission.
Errorless transmitted and 0% loss against external interference.
Products Overview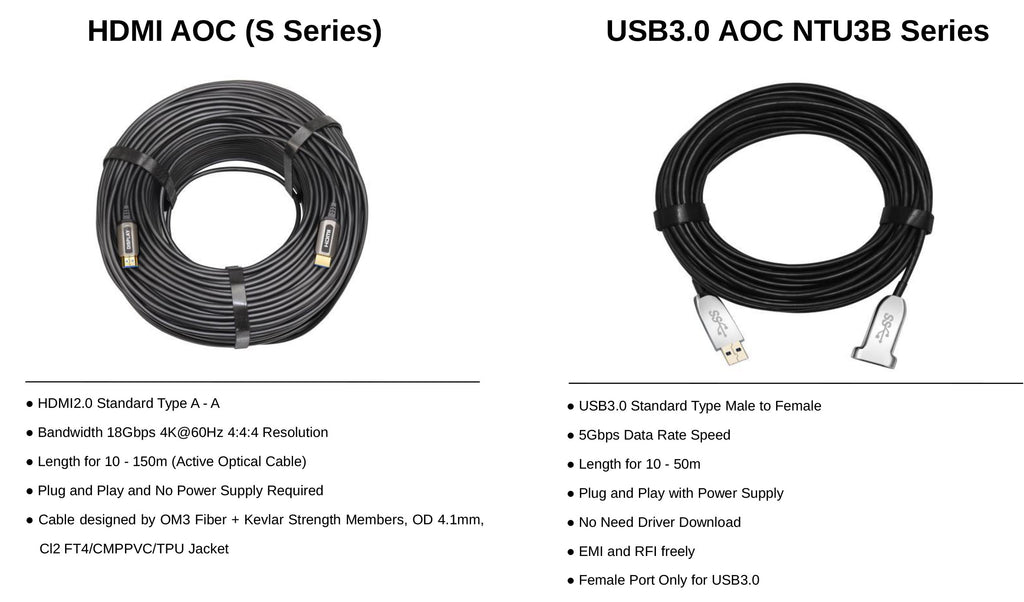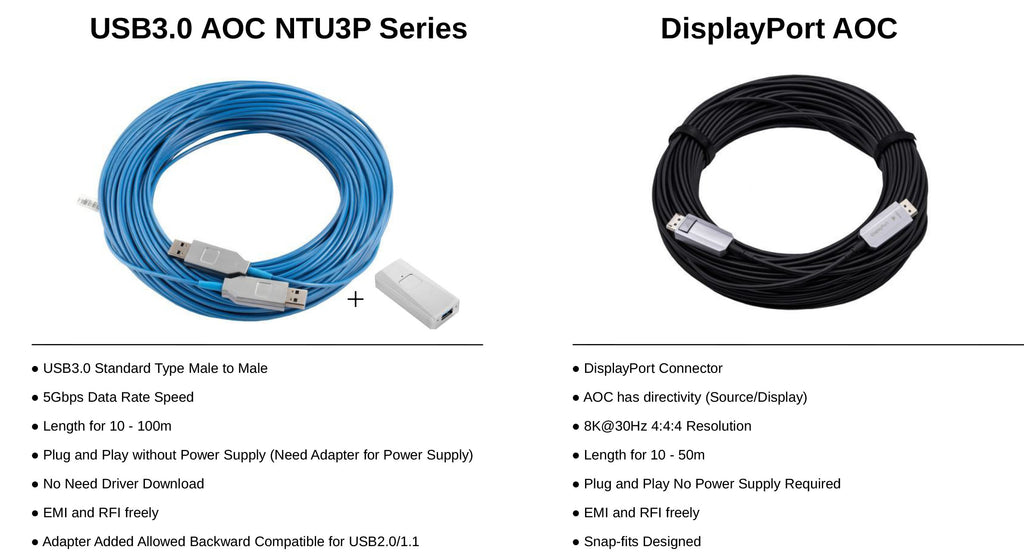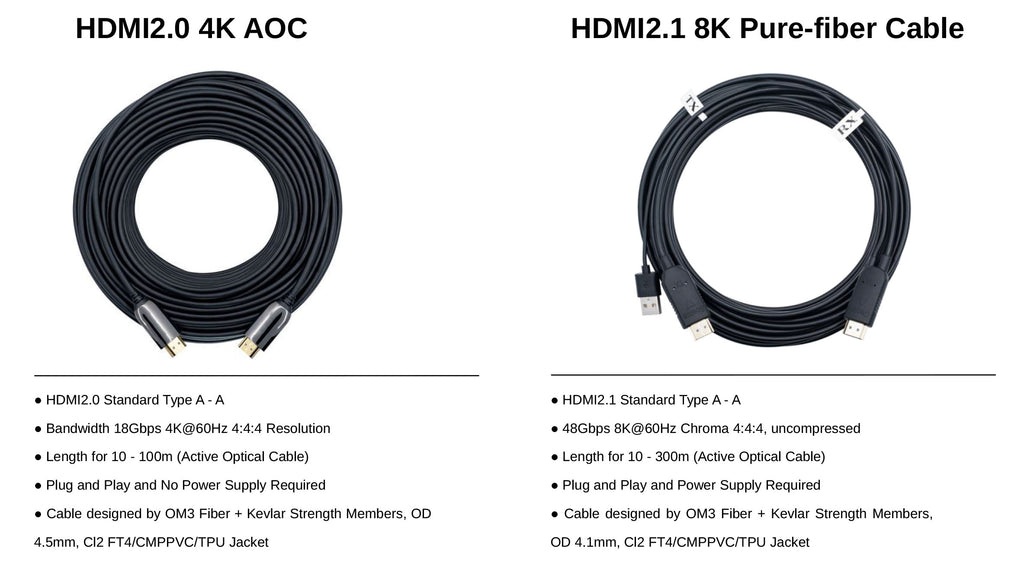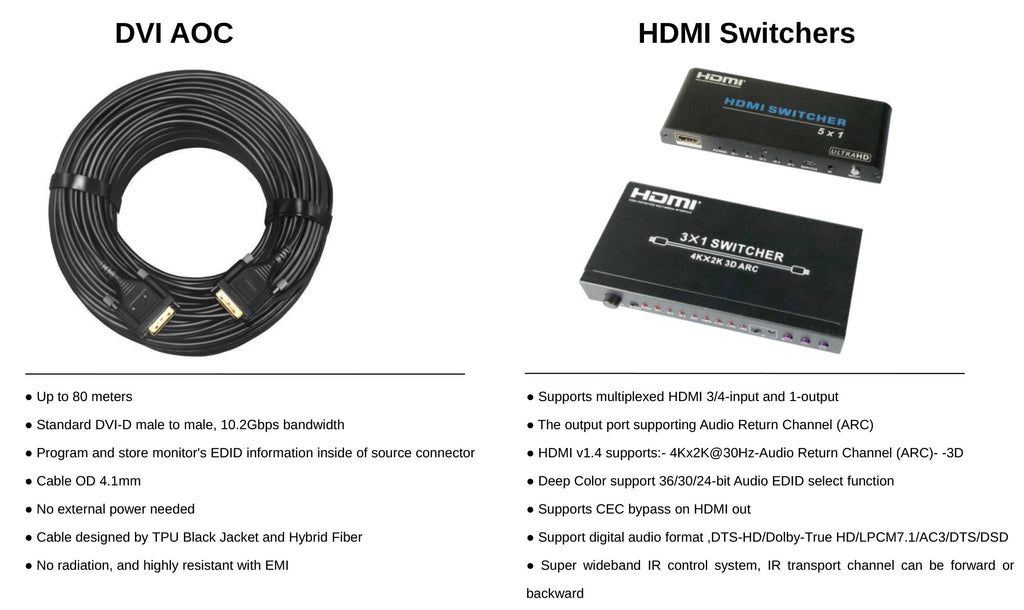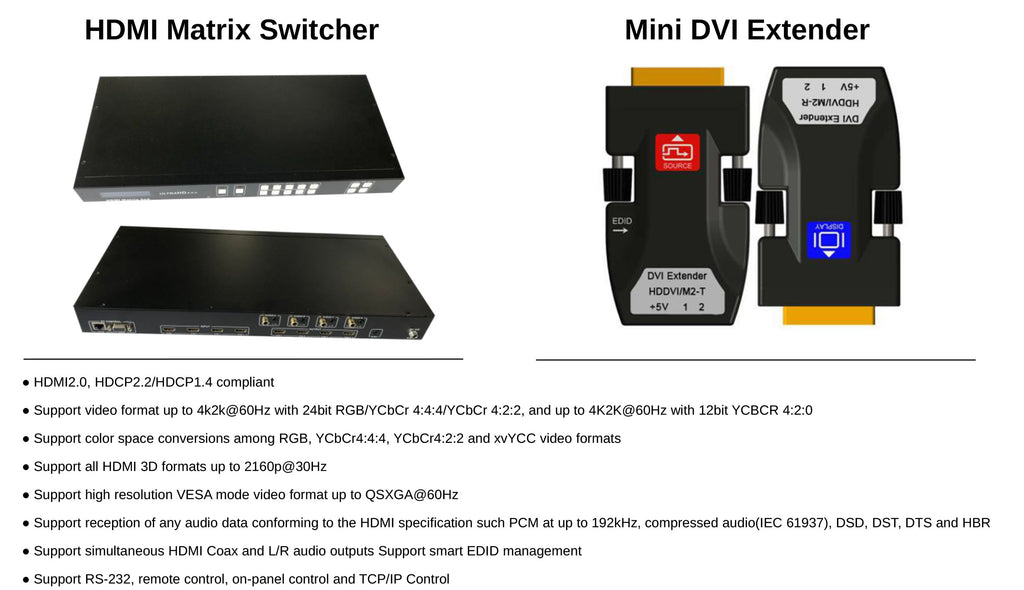 Are you looking for the most suitable Audiovideo solutions?
We are your experts for high-quality AV systems & more.
Solution 1: 
Innocation Fiber Optic Technology Broadering Your Worldwide Vision in AV System.
Base on for 4K/8K signal transmission, over 10m long distance transmission, what kinds of solutions prefer to choose?
Active Optical Cable:

Fiber/Cable Extender:

Solution 2: 
USB3.0 AM-AF with power supply, Hybrid cable that supplies power in lengths to 50m.
5Gbps NTU3B Active Optical Cable connects your host and devices together with a flexible and rugged cable with built-in fiber optics and electronics. The cable comes in various lengths up to 50m.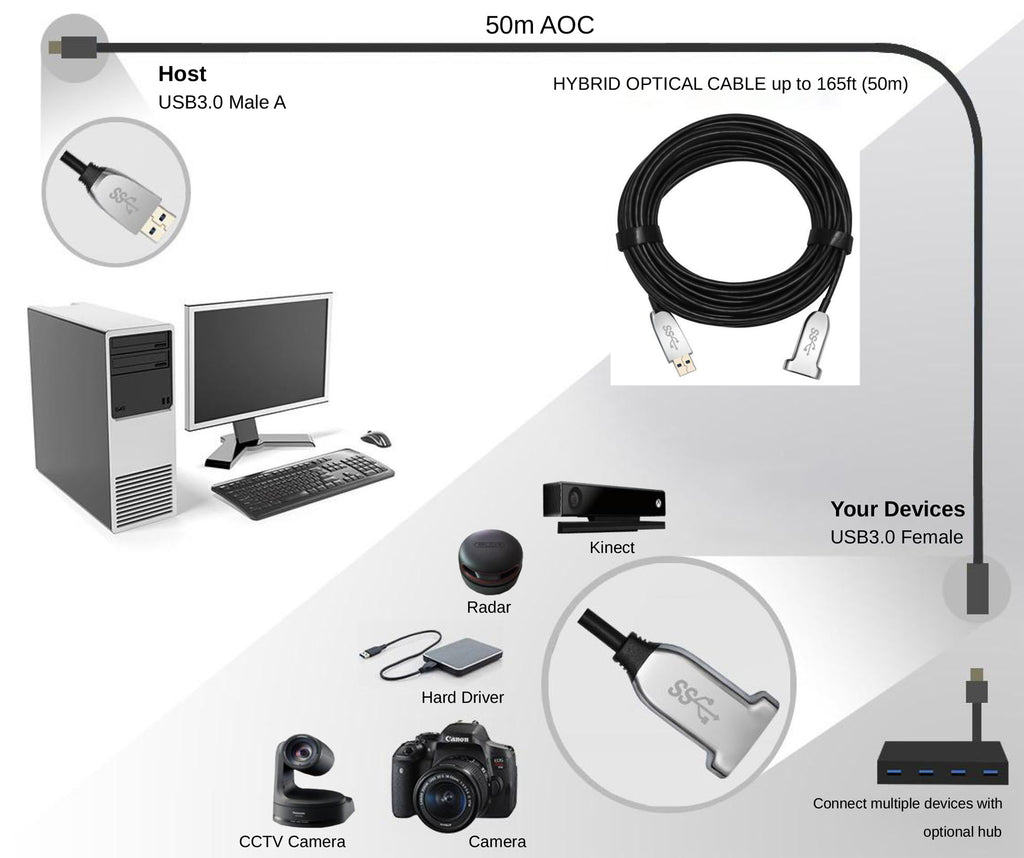 Solution 3: 
300m long reach signal transmission system, 48Gbps 8K HDMI2.1 AOC solutions for engineering project.
HDMI Pure-fiber Cable
The Layout of Cut-off Re-fusion Cabling Solution.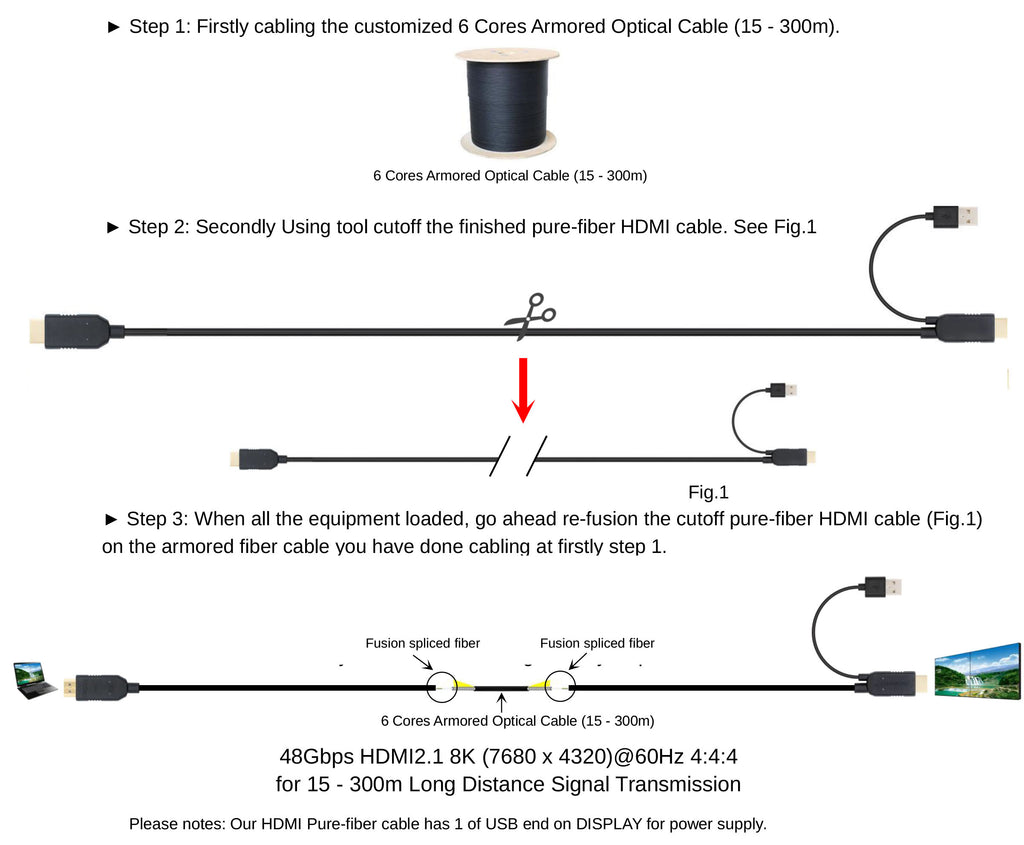 More than 8100 large-scale successful solutions cases occurred.
We helped HUWEI to build their conference Rooms System with our volume of USB3.0 AOC and HDMI AOC, this year of 2019 official become HUWEI  First-Tier Supplier.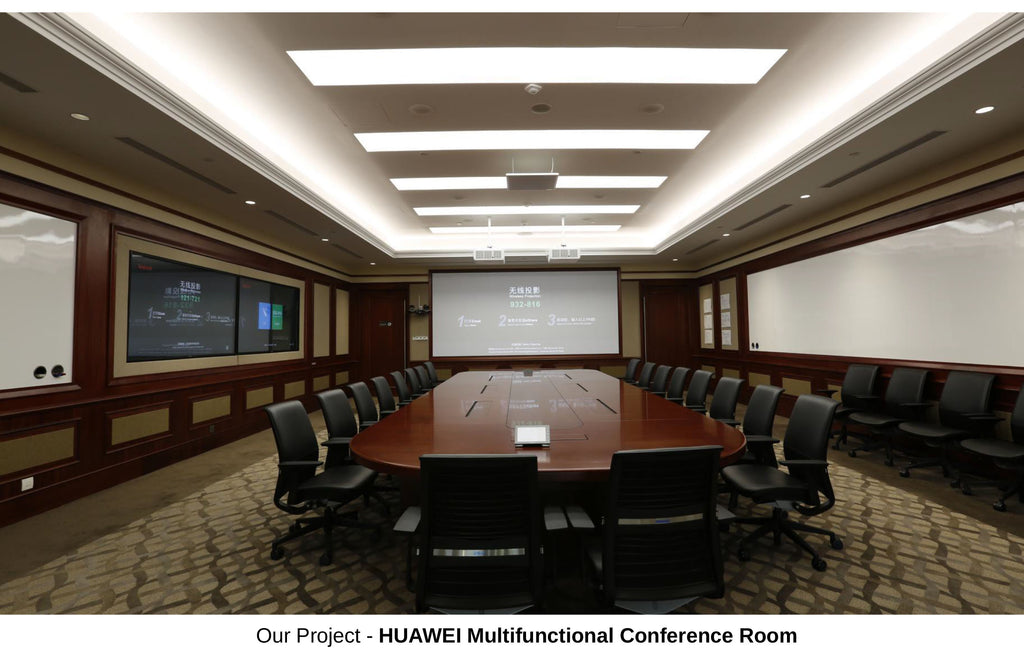 About US:
Our company is a fiber optical communication manufacturing of superior quality, specialized in long reach and highly bandwidth AV transmission, our advantage product include HDMI 1.4/2.0/2.1 AOC, DP 1.4 AOC, USB3.0 AOC. Our fiber cable reach 328ft (984ft at most) with true 4K and 8K without compressed. Currently, we worked with Panasonic Theme Park, EPSON 3D-Mapping, Asia Bao'an Conference 2018, Science Museum of China FAST(Five hundred meters Aperture Spherical Radio Telescope), DJI automatic drive, and Many Chinese government big projects and so on.
Noted: For details please do not hesitate contact us email jack@splicermarket.com