The Fujikura 88S+ is a fusion splicer with high-precision lenses that provide accurate core-to-core alignment. Additionally, these lenses allow the splicer to discriminate between fiber types.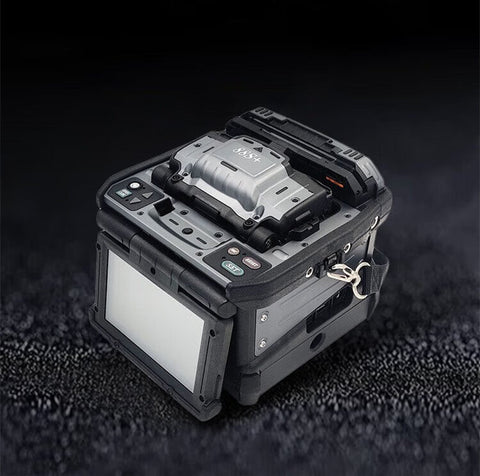 The 88S+ features advanced image processing technology that analyzes the fiber image profile as a brightness pattern. This tool finds the true core location and achieves consistent lower splice loss. The device features a fiber discrimination function: it automatically identifies the optimal arc discharge parameters depending on the fiber type.
The Fujikura 88S+ is a new core alignment fusion splicer with faster automation features. The 88S+ Fusion Splicer's fast automatic features minimize installation times. The 88S+Fusion Splicer automatically identifies the optimum arc discharge parameters based on the plum type. The sheath clamp for the 88S+ Fusion Splicer is compatible with loose tube fibers.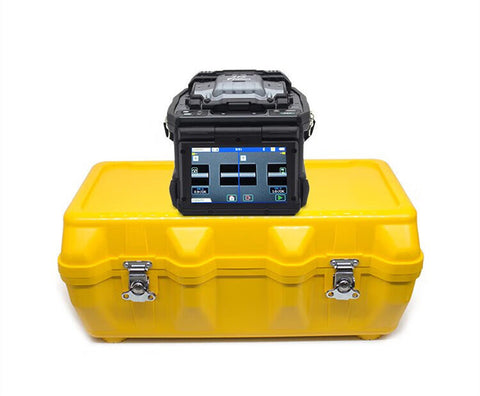 The 88S+ Fusion Splicer and CT50 Fiber Cleaver are enabled with wireless data connectivity. This capability allows for automatic cleaver blade rotation when the cleaver disengages its blade. In addition, the 88S+ Fusion Splicer can connect to two CT50s simultaneously. It has a 4.9-inch TFT touchscreen. The 88S+ is also equipped with Active Blade Management Technology and Active Fusion Control Technology.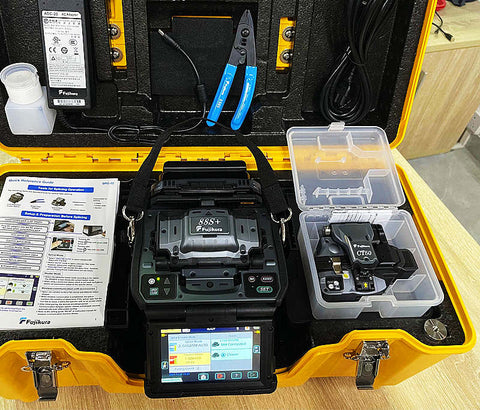 Features
Core alignment technology.
The tool can connect two cleavers simultaneously.
Operation manual is installed into the splicer.
Battery life increased up to 500 recharge cycles.
5-inch color TFT touch screen display.
Advanced image processing technology.
Easy fiber protection sleeve positioning.
The lid of the carrying case may be used as a work table.
Splicing time: 7-9 sec (SM FAST mode).
Heat time: 13-15 sec (for 60 mm sleeves)
The sheath clamp is compatible with loose tube fiber.
Fiber discrimination function.
The faster automated features.
Time for opening wind protector is 80% lower comparing to the Fujikura 80S.
Time for placing fiber into heater is 50% lower comparing to the Fujikura 80S.
Wireless data connectivity allows automatic cleaver blade rotation when the splicer judges the blade is worn.
Increased electrode lifetime – up to 5000 splicing cycles with one set.
Blade life management: the device displays the remaining blade life, informs about blade height and position change, and when new blade is required.
Plenty of space in the carrying case. There are two drawers for storage, and the work tray can be divided into two separate places.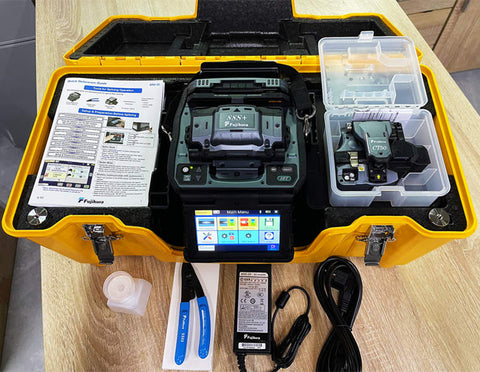 TECHNICAL SPECIFICATION
 Fiber alignment method

 Active core alignment

 Fiber count can be spliced

 Single fiber

 Applicable fiber

 

 Fiber type

 SMF(G.652/657), MMF(G.651), DSF(G.653), NZDSF(G.655)

 Cladding dia.

 80 to 150um

 Applicable coating

 

 Sheath clamp

 Coating dia.: Max. 3,000um
Cleave Length: 5 to 16um

 Fiber Holder

 Coating dia.: Refer to Options
Cleave Length: Approx 10nm

 Fiber splice performance

 

 Splice loss

 ITU-T G.652: Avg. 0.02dB
ITU-T G.651: Avg. 0.01dB
ITU-T G.653: Avg. 0.04dB
ITU-T G.654: Avg. 0.04dB
ITU-T G.655: Avg. 0.04dB
ITU-T G.657: Avg. 0.02dB

 Splice time

 Typical 7 sec.

 Applicable protection sleeve

 

 Sleeve length

 Heat shrinkable sleeve

 Sleeve type

 Max. 66mm

 Sleeve dia.

 Max. 6.0mm before shrinking

 Sleeve heat performance

 

 Heat time

 Typical 9 sec.

 Fiber tensile test force

 Approx. 2.0N

 Electrode life

 Approx. 5,000 splices

 Environmental Condition

 

 Temperature

 Operate: 10 to 50˚C
Storage: 40 to 80˚C

 Humidity

 Operate: 0 to 95%RH non-condensing
Storage: 0 to 95%RH non-condensing

 Altitude

 Max. 5,000m

 AC adaptor

 Input AC100 to 240V, 50/60Hz, Max. 1.5A
Output Approx. DC 12V, Max.7A

 DC adaptor

 Input DC10 to 15V, Max.7A

 Battery pack

 

 Type

 Rechargeable Lithium-Ion

 Output

 Approx. DC14.4V / 6,380mAh

 Capacity

 Approx. 300 splice and heat cycles

 Temperature

 Operate: 10 to 50
Recharge: 0 to 40
Storage: 20 to 30

 Battery life

 Approx. 500 recharge cycles

 Display

 

 LCD monitor

 TFT 4.9 inches with touch screen

 Magnification

 200 to 320x

 Illumination

 

 V-grooves

 LED lamp

 Interface

 

 PC

 USB2.0 Mini B type

 External

 USB2.0 A type

 LED Lamp

 Approx. DC5V, 500mA

 Ribbon Stripper

 Mini DIN 6pin DC12V, Max. 1A

 Data storage

 

 Splice mode

 100 splice modes

 Heat mode

 30 heat modes

 Splice result

 20,000 splices

 Splice image

 100 images

 Other Features

 

 Automatic functions

 Splice mode selected by fiber type analysis
Fusion control
Wind protector: open and close
Sheath clamp: open
Splice start
Heater lid: open and close
Heater clamp: open and close
Heater Start

 Special splice

 Attenuation splice

 Reference guide

 Video and PDF files stored in the splicer

 Sheath clamp

 Easy sleeve positioning clamp

 Electrode

 Replaceable without tool

 Software for PC

 Splicer firmware update via internet
Operating splicer with PC
Parameter upload and download
Splice image download to PC

 Dimension & Weight

 

 Dimensions (mm) (without projection) (W x D x H)

 170 x 173 x 150

 Weight ( including battery)

 Approx. 2.8 kg