There are many manufacturers of optical fiber fusion splicers. Today, when it comes to the configuration of optical fiber fusion splicers, most of the configurations are the same. Everyone buys optical fiber fusion splicers for fiber to the home and trunk lines. The tools will be configured as standard configuration of the optical fiber fusion splicer: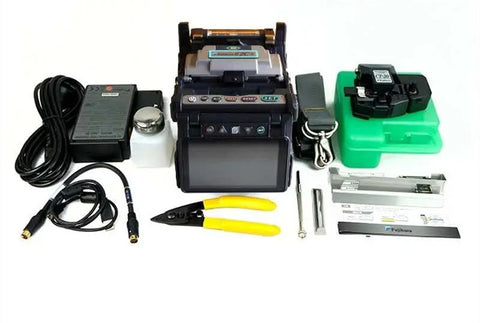 One host.

Fiber Cleaver: It is used to cut the optical fiber and cut the section level.

Electrode rods: Electrode rods are used to radiate high-voltage arcs and are consumables. All of them are generally matched with a pair of electrode rods

Fixtures: Different types of fixtures are used to stabilize different types of optical fibers of different thicknesses, and many multi-functional fixtures are used now.

Three-neck Miller pliers: used for pulling optical fibers, removing coatings, etc.

Wire strippers: remove the skin of the leather wire

Alcohol bottle: clean the optical fiber after the coating has been removed
Cooling tray: place the heated fiber in it for cooling
Tweezers: used to clamp the heated optical fiber heat shrink tube to avoid burns
Power supply: charging
Manual: function introduction and product introduction
Toolbox: used to place optical fiber fusion splicers and accessories
The above accessories are essential accessories for optical fiber fusion splicing, and all of them are basically the standard configuration of the optical fiber fusion splicer of the manufacturer.