A fiber optic cleaver is a type of cutting tool that is used to cut through fiber optic cable. Fiber optic cables are made up of many small pieces that need to be cut in order to access the underlying wires. A fiber optic cleaver is a great way to get the job done quickly and efficiently.
What is the fiber cleaver on the market today? With so many options, it's normal for consumers to become overwhelmed when trying to find an appropriate brand for shopping. There are way too many choices on the market, including knock-off brands that are cheaply built.
To help you find the fiber cleaver brand, we analyzed & researched all the features that are right for you and came up with a list of 6 different options to purchase.
We also took the time to assess a wide variety of options including durability, materials, designs, expert reviews & customer ratings to find the best-performing fiber cleaver.
Read on and find out which is right for you.
Top 1 Fiber Optic Cleaver:
Original Fujikura CT50 cleaver Fiber Optic Cleaver High Precision Bluetooth Single Fiber Cleaver 
The new CT50 Optical Fiber Cleaver is an improved complete cleaving product, offering increased operability and maintainability compared to any other cleaver of its kind on the market today.
Fibernet is the exclusive distributor of Fujikura Telecom's splicers in Israel and the only local a service center approved by Fujikura for all fusion splicers & accessories.
The CT50 provides enhanced drop and impact resistance and allows customers like never before to replace the actual cleaving blade and resin members that hold the optical fibers, dramatically reducing handling time and maintenance costs. With the ability to cleave single fibers and bundles of up to 12 fibers, the CT50 is Bluetooth enabled, smart phone ready, and can be easily integrated into existing splicing processes for customers looking to invest in a future-proof cleaving solution.
Features
* Applicable up to 12-fiber cleaving
* Automatic cleaving blade rotation via wireless communication
* User replaceable fiber clamps and cleaving blade
* 60,000 fibers blade life(3 height x 16 positions)
* Wide lever opening angle allows easy fiber placement
* Single-action operation including fiber scrap collection
Top 2 Fiber Optic Cleaver:
Fujikura CT08 Single fiber Cleaver High Precision Optical Fiber Cleaver Splicing Tool
The Fujikura CT08 precision cleaver sets the standard for performance and adaptability. It is made to suit any application and budget, while maintaining the highest quality cleave performance required for splicing and mechanical terminations. Fujikura's flagship cleaver, the CT08, is capable of cleaving single, combining seamless adaptability with precision performance. Its automated off-cut collection system and compatibility with Fujikura's fiber holder system set the standard for ease of use.
Features
* Dedicated for single fiber cleaving.
* Absolute robustness
* Replacement of fiber clamps and cleaving blade by user
* No tool necessary for blade rotation
* Blade life up to 48,000 cleaves
* Easy fiber placement with wide lever opening
* Simple and single-step operation
Top 3 Fiber Optic Cleaver:
High Precision FITEL S326A Optical Fiber Cleaver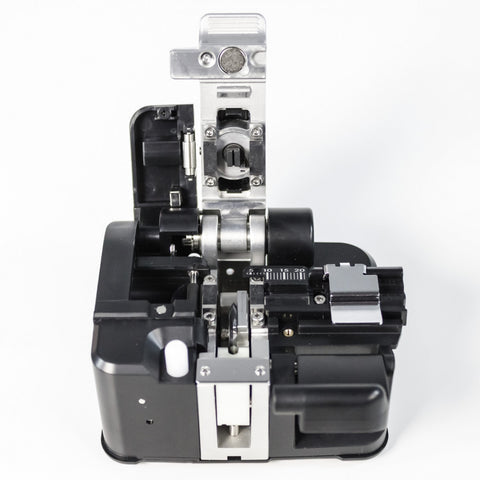 The Fitel S326A precision cleaver solves the dilemma of stray fibers with a unique disposal system incorporated into the design. The automatic cleave function provides constant cleaving pressure and improves cleave quality. The cutting blade locks into place after scoring, preventing double scoring. Also can be used to cleave ribbon fiber.
Features
* Simple Operation
* Easy Fibre Loading
* Durable & Reliable Design
* Wide Lid Opening
* Long Blade Life - 24 cleaving positions
* Lightweight
* High Capacity Waste Bin
Top 4 Fiber Optic Cleaver:
Sumitomo FC-6S  Cleaver High Precision 

Fiber Optic Cleaver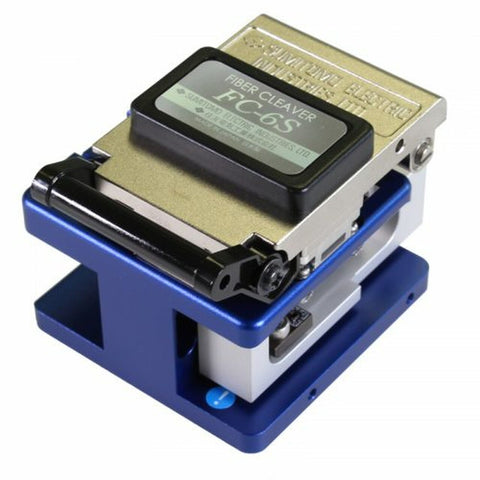 The Sumitomo FC-6S is one of the most popular fiber cleavers in mainland China. It has attracted the attention of many 'clone manufacturers' who build unauthorised counterfeit copies of our cleavers and cleaver cases. These are offered for sale worldwide on the internet. Such products are not endorsed by Sumitomo and their manufacturers and sellers are not authorised by Sumitomo. Genuine Sumitomo FC-6 series cleaves made since 2014 have an anti-counterfeit label on the cleaver lid and on the cleaver case. The appearance of the label varies according to illumination conditions.
Features :
* High Precision Cleaves
* Compact body& light weight
* 250μm Coated or 900μm Buffer fiber
* Provides approximately 36,000 cleaves
* 12 Position Rotatable and Replicable Blade
Top 5 Fiber Optic Cleaver:
Fiber Optic Cleaver TEKCN TC-30 

Fiber Cleaver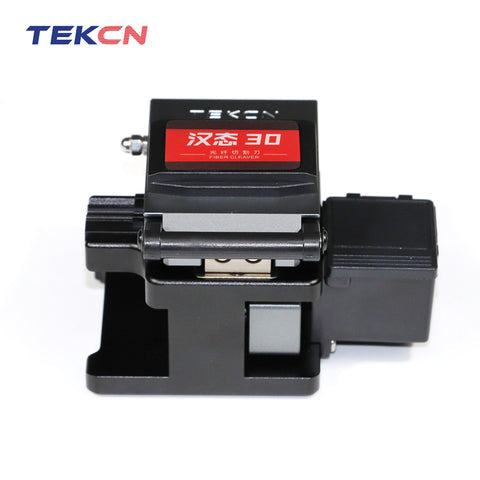 Features :
* Provides approximately 48,000 cleaves 
* Compact body& light weight 
* 250um Coated or 900um Buffer fiber 
* Singlemode or Multimode Use 
* 24 Position Rotatable and Replicable Blade 
Top 6 Fiber Optic Cleaver:
INNO V7 Fiber Optic Cleaver V7 FTTX FTTH Optical Fiber Cleaver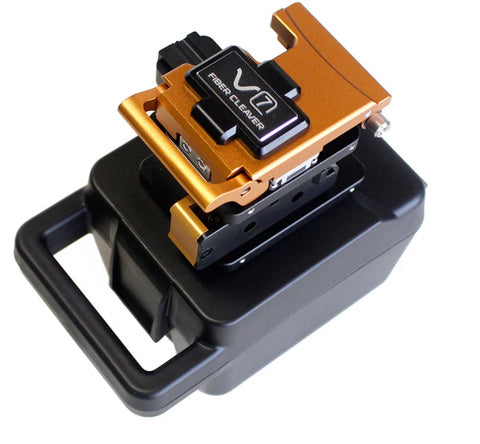 High-precision optical fiber cleaver V7 cuts optical fiber very precisely. V7 can be used for a wide range of holders for up to twelve ribbon cables as well as universal holders for 250um, 900um and 3.0mm fibers and flat cables. V7 fiber cleaver is easy and simple to operate in two steps to maximize work efficiency. V7's superior cutting capability allows users to nail the most accurate cut and be prepared for the ideal fusion splicing (cutting blades provide more than 48,000 cuts with easy blade position selection).
Features
* Compatible with all VIEW series fusion splicer
* Available for single and ribbon cleaving up to 12 fibers
* Easy and simple 2 step operation 
* Automatic fiber shard collector (optional)