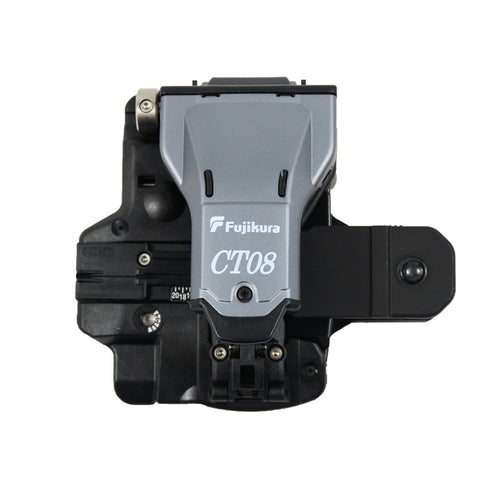 The CT08 cleaver is an extremely rugged, durable, and easy to use single fiber cleaver. Ideal for FTTH applications, the CT08 provides unmatched levels of impact resistance and also eliminates the requirement for tools during blade rotation. A thumbwheel on the bottom of the cleaver is applied for blade rotation, and the blade position indicator has been changed to enable quick and easy viewing. The top clamp opens to a position past vertical allowing for easy viewing, cleaning, and adjustment of the cleave length. The blade is retracted automatically when opening the top clamp and is activated upon closing, making this a true one-step cleaver. The cleaver blade and fiber clamping mechanism is extremely easy to replace in the field. A manual scrap collector is included.
How to adjust the blade height adjustment
Fiber Holder or Fiber Plate is necessary for this step.

Features
User Friendly
Easy Maintenance


The CT08 fiber cleaver has a user-replaceable blade and rubber clamps, so there's no need to send the device to a service center for blade or clamp replacement.

Easy Access & Longer Stripped Fibers


The CT08 lid opens 100 degrees. Therefore, it is easier to see to place the fiber or fiber holder correctly, and to clean the rubber clamps and cleaver blade for maintenance.

Single Action Operation


The CT08 cleaves with a single press action.
Easier Blade Position change


The CT08 blade position is changed by rotating the bottom dial. It is not necessary to use tools to change the blade position.

Standard Package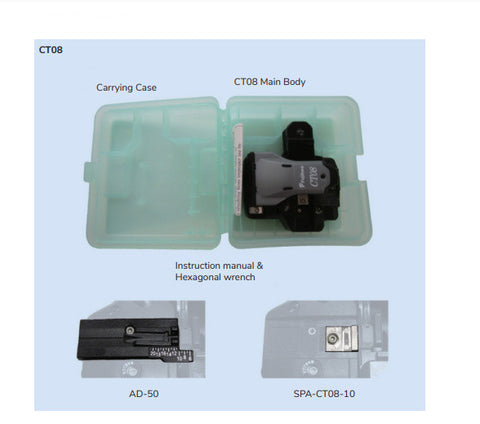 Optional Items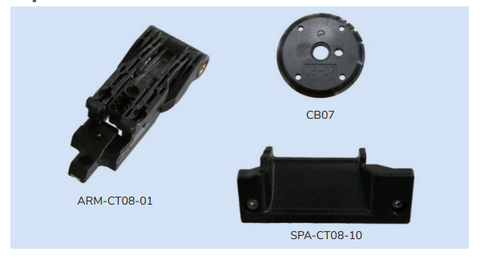 Specifications
Description

CT08

Applicable Fiber

Silica optical fiber

Number of fibers

Single

Coating Diameter

160 to 900μm (2/3mm cord & drop cable)

Cladding Diameter

125µm

Cleave Length

5-20mm with AD-50

10mm with FH-xx-

Cleave Angle

Typical 0.5 degrees

Blade life

Typical 48,000 fibers 

Dimensions 

110(W) x 95(D) x 45(H)mm

Weight

185g 

Operation condition

Temperature: -10 to 50℃ Humidity: 0 to 95% RH(Non-condensing)

Storage condition

Temperature: - 40 to 80℃ Humidity:0 to 95% RH(Non-condensing)

Resistance features

 

Shock: 76cm (30inch) all directions dropShock: 76cm (30inch) all directions drop

  Dust resistance: Exposure to dust (0.1 to 500μm dia.    Alumina Silicate)

  Rain resistance: H=10mm/hr for 10min