What is Optical Fiber Optic Cleaver 
Optical fiber optic cleaver is one of the most important parts of optical fiber fusion splicer machine, mainly used for optical fiber cutting.  The quality of fiber cleaver of optical fiber fusion splicer splicing machine directly determines the quality of optical fiber cutting, including whether the optical fiber end is smooth, whether the end Angle meets the technical requirements, and also directly determines whether the optical fiber fusion splicer can meet the technical requirements of the project.  
Necessity of replacing the clamp arm
Damaged clamp rubber cannot hold fiber.
It causes bad quality cleaving.

How often replacing clamp arm ?
When you find the following issues.
   ・Damaged surface of clamp rubber, such as scratch and crack
   ・In case replacing or adjusting the blade did not improve cleaving quality.
   ・Broken clamp arm.

Scratches on the clamp rubber
Necessary items to replace the clamp arm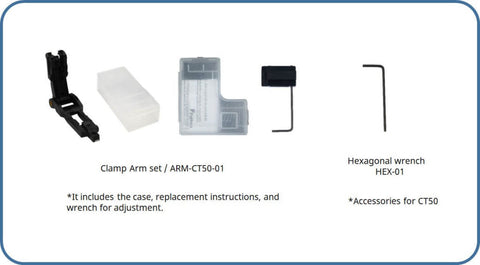 How to replace clamp arm
1.Detach the fiber plate (AD-10-M24).
           *The fiber plate disturbs the next step operations.

2.Remove the Fujikura CT50 Fiber Scrap Box(FDB-05)
3.Loosen the two screws and remove the Fiber Scrap Collector.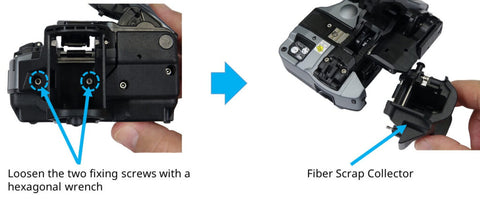 4.Lift the lower clamp arm up.

5.Loosen the fixing screw of the shaft with an Allen wrench.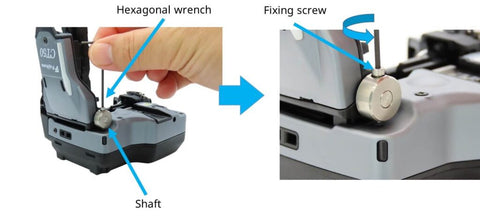 6.Remove the clamp arm.

7.Insert the spring into the hole of the new clamp arm.

8.How to confirm the spring mounting.
9.Hook the end of the clamp arm to the top of the cutting lever.

10.Insert the shaft and tighten the fixing screw.

11.Lower the lower clamp arm down to fix it.

12.Attach the Fiber Scrap Collector. Then attach Dust box.