Exfo Fip-400b series wireless fiber end detector (FIP-435B, FIP-425B, FIP-430B, FIP-420B) built-in analysis function of automatic WiFi detection tool
Turn your smart device into a fully automatic fiber end detection solution, providing fast and consistent test results. It does not need to
Cumbersome cables or bulky batteries make it easy to carry around, providing an unmatched end user experience.
 
Fip-400b wireless fiber end detector main functions
100% automated, one-step detection process
A completely wireless, self-powered device
Screen-free operation with/without LED indicator
Connector end face analysis (based on IEC, IPC, or custom standards)
Feature-rich ConnectorMax2 Mobile application, compatible
Android and iOS devices
Provide full reporting capabilities on mobile devices
Up to one day battery life makes you feel safe to use
MF supported version, compatible with automatic multi-fiber connector detection adapter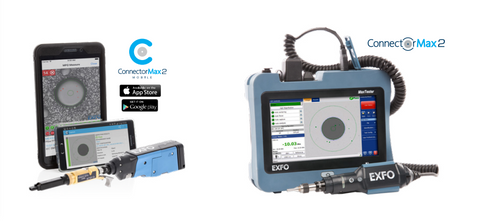 Application
Fiber to Antenna (FTTA)
FTTx and hybrid nets
DAS and fiber optic connection of small cells
The data center
Campus network and private network
Computer room
 
Fully Automatic
Wireless, unlimited.
EXFO's combination of unparalleled ease of use and WiFi connectivity with flexible, easy-to-use Android or iOS smart devices removes the last barrier to connector verification and makes testing simple and effortless. With FIP-435B, there is nothing to stop your field staff from taking the best fiber testing practices and crossing out connector failures that affect network performance.
 
Everyone can use it anywhere
All of your network staff -- regardless of their technical background or skill level -- can be equipped with the Exfo FIP-435B to perform first-level troubleshooting tasks, from
And address the most common root cause of the problem. In any type of fiber network that has been deployed -- FTTx, machine room, private network, data center, etc -- the first important piece of equipment that needs to be verified whenever there is a problem is the fiber connector. Thanks to fiP-435B's 100% automated testing process, connector end validation is now a fast, easy and one-step process. Install the ConnectorMax2 Mobile application on Android or iOS devices, turning a smartphone or tablet into a full-featured fiber-optic end detection solution without sacrificing any functionality or result accuracy.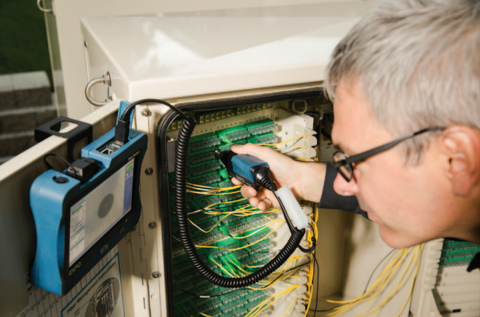 Optical fiber end detection has reached a new height
In fiber-to-antenna (FTTA) installations, operators and infrastructure owners must hire professionals to climb towers, install fiber optics and connect radio-frequency telescreens (RRH). This work requires a high cost. People familiar with copper cable or RF technology often don't have the necessary background in fiber testing technology and climb towers with bulky equipment.
It is also a difficult task.
The Exfo FIP-435B uses a fully automated testing process that helps end skill gaps, reduces the number of climbs, and simplifies the work that needs to be done at the top of the tower. The device's autofocus provides the best image resolution, while its focus protection removes the risk of incorrect results, providing technicians do not have to climb to the top of the tower twice. Additionally, it enables people who climb to the top of the tower to keep their phones in their pockets and have instant access to industry-standard analysis results via an LED pass/fail indicator. Without the need to operate a bulky platform or phone, the detector can be operated with one hand, allowing technicians to focus on the task at hand and making it easier to get to hard-to-reach places.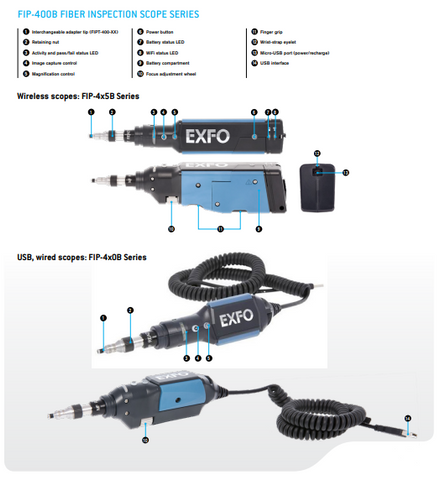 Fip-400b series wireless fiber end detector detection -- unlimited
The Exfo FIP-435B is a true wireless solution. Instead of a wired connection, video is transmitted in real time between the detector and the smart device via WiFi, and bulky external batteries are not required. This can greatly improve functional design and avoid the risk of damaging the smart device by accidentally pulling the wire while operating the inspection tool. The Exfo FIP-435B is highly automated, ergonomic and free to operate, enabling technicians to better adapt to their needs and easier to adopt.
Best practices
In addition, you can synchronize your results and reports to the cloud server from anywhere via email or other means of communication provided by your smart device with the connectivity of your smart device.
Screenless operation
With a pass/fail LED indicator, the user can validate the connector without having to view the results through the smartphone screen. This allows the user to keep the smart device in their pocket during the detection, allowing them to operate freely with both hands.
No longer consumes power for smart devices
EXFO's wireless fiber end detector is independent of smartphone power. These detectors are self-powered by their own batteries, which can last a full day when fully charged. The battery can be recharged by connecting to a standard AC power outlet via the supplied USB cable.
Fast tracking connector detection
If you outsource fiber testing, you want to make sure your technicians are using the best practices and verifying each connector correctly. This step is critical, and failure to do so can lead to serious problems that take a lot of time to resolve. The new FIP-400B wireless fiber end detector series is the crystallization of many years of experience in field fiber end detection. It uses a new patent-pending design based on end-user feedback to optimize and speed up the testing process.
The whole fiber end detection process is automated
The Exfo FIP-435B automates every step of the test operation with a unique autofocus system, transforming inspection into a simple, quick, one-step process that can be easily implemented by technicians of all levels.
Its focusing system makes sure that each connector image is captured with the best quality to facilitate defect detection. In addition, focus protection prevents capturing images in the event of improper focus adjustment, making sure that analysis does not overlook any defects or residues that affect performance and thus avoids reporting erroneous results. All of these features contribute to more accurate and consistent test results and successful network deployments in one go.