fusion splicer is a device that uses an electric arc to fuse two fibers together at their ends and from a single long fiber. The resulting splice, or fusion splice, permanently joins two glass fibers end-to-end, so that optical signals can pass from one fiber to the other with little loss. There are many well-known brands of fusion splicing machines, such as Fujikura, EXFO, AFL, etc. One of the most famous brands is Fujikura. This article mainly introduces the Fujikura fusion splicer.
Fujikura Manufacturing Co., Ltd. is a global electrical equipment manufacturing company headquartered in Tokyo. It develops and manufactures products for power and telecommunications systems, including fiber optic equipment such as cleavers and splices. As the world's leading splicing machine brand, Fujikura has achieved and maintained the world's leading splicing machine brand by providing quality products and extensive knowledge for telecommunications, photonics research and manufacturing applications.
Fujikura fusion splices are one of the most widely used equipment in the world and are known for their performance, productivity and reliability. Fujikura fusion splicers are kept in good condition as a tool for masters who maintain good quality. All Fujikura fusion splices are supported by the Fujikura technical support team. Fujikura has more than 80 authorized distributors worldwide. They stand by your side to provide the best and fastest support, not only after the service, but before the service. You can rely on them to solve all your problems.
According to different splicing applications, Fujikura fusion splicers can be divided into three types: core orientation splicing machine, ribbon fiber fusion splicing machine and special fiber fusion splicing machine. Core alignment splicing machines are mostly used in practice, including the 90S+. Ribbon fusion splicers are essential tools for efficient work, including the 90R. Special fiber fusion splices include FSM-100 series, special accessories and recoaters.
Fujikura 90S+ Splicing Machine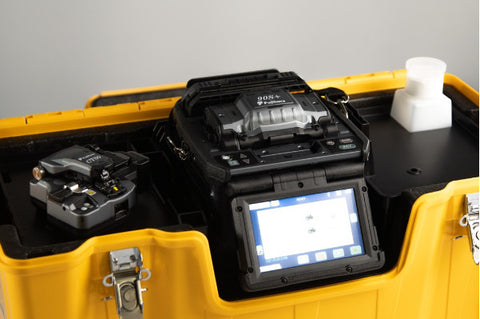 Fujikura 90S+ Splicing Machine is a fusion splicer with high precision lenses, which provide an accurate core-to-core alignment. Also, these lenses allow the splicer to discriminate between fiber types.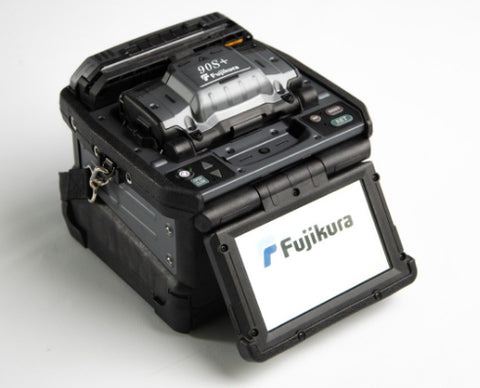 The AFL Fujikura 90S+ possesses advanced image processing technology which analyzes the profile of the fiber image as a brightness pattern. The tool finds the true core position and achieves consistent lower splice loss. The device features fiber discrimination function: it automatically identifies the optimum arc discharge parameters in accordance with the fiber type.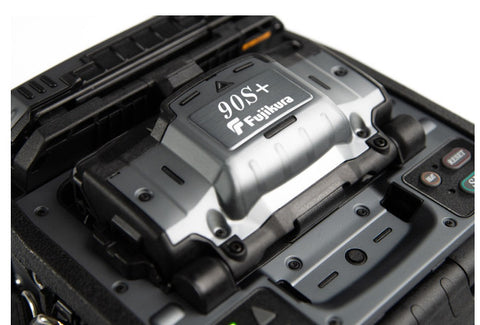 Fujikura 90S+ Fusion Splicer has faster automated features that reduce installation time. The user can complete the entire splicing process without touching the tool and only moving the fiber. The fiber retention clamps support the automated operations. When the sheath clamps open automatically after splicing, the fiber retention clamps gently hold the spliced fiber to keep it from flying out.
Features
* Fiber discrimination function.
* The faster automated features.
* Battery life increased up to 500 recharge cycles.
* Core alignment technology.
* Splicing time: 7-9 sec (SM FAST mode).
* Heat time: 13-15 sec (for 60 mm sleeves).
* Advanced image processing technology.
* Plenty of space in the carrying case. There are two drawers for storage, and the work tray can be divided into two separate places.
* Operation manual is installed into the splicer.
* The sheath clamp is compatible with loose tube fiber.
* 5-inch color TFT touch screen display.
* Time for opening the wind protector is 80% lower compared to the Fujikura 80S.
* Time for placing fiber into heater is 50% lower compared to the Fujikura 80S.
* The lid of the carrying case may be used as a work table.
* Easy fiber protection sleeve positioning.
* Blade life management: the device displays the remaining blade life, informs about blade height and position change, and when new blade is required.
* The tool can connect two cleavers simultaneously.
* Wireless data connectivity allows automatic cleaver blade rotation when the splicer judges the blade is worn.
* Increased electrode lifetime – up to 5000 splicing cycles with one set.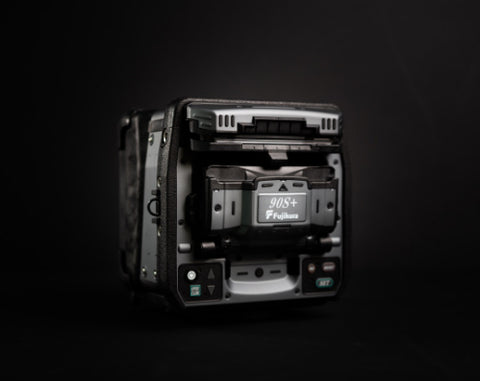 For more information on Fujikura fusion splices, visit www.splicermarket.com.