Fujikura 48S is a single fiber splicing machine. It is an active core alignment splicing machine that gives excellent and accurate results. It has 100 splice modes and 30 heating modes. It also has the capacity to store 10000 splice results. The Fujikura 48S is equipped with a 4.9-inch TFT display with a touch screen and is fully loaded with user-friendly features. The Fujikura 48S has a small size and is lightweight which enables it to be carried and used in a variety of environmental conditions.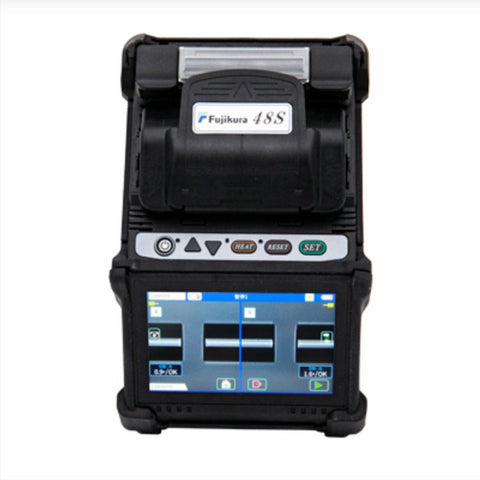 Features
* Active Core Alignment
* USB 2.0 Type-A
* USB 2.0 Mini Type-B
* Typical 7 sec Splice Time
* 100 Splice Modes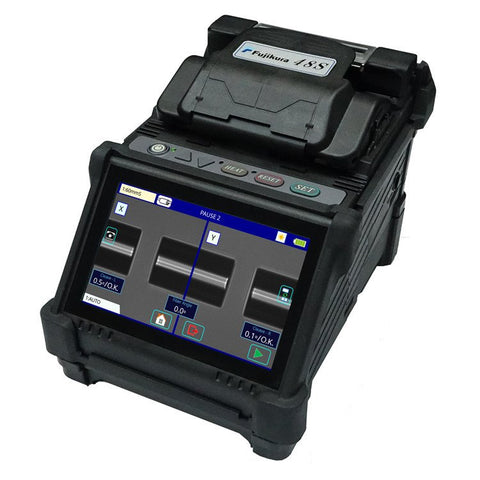 Active Fusion Control Technology:
· Active Fusion control by cleave condition
One of the main causes of high splice loss is bad cleave and face quality. The Fujikura 48S analyzes the condition of both L and R cleave end faces, then applies optimal fusion control, thus improving splice loss significantly and also greatly reducing the need for rework.
· Active Fusion control by fiber brightness
Fusion gets easily affected by changes in the environment. The Fujikura 48S uses real time fusion parameter control by analyzing intensity of fiber brightness during splicing, thus contributing to stable & low splice loss results.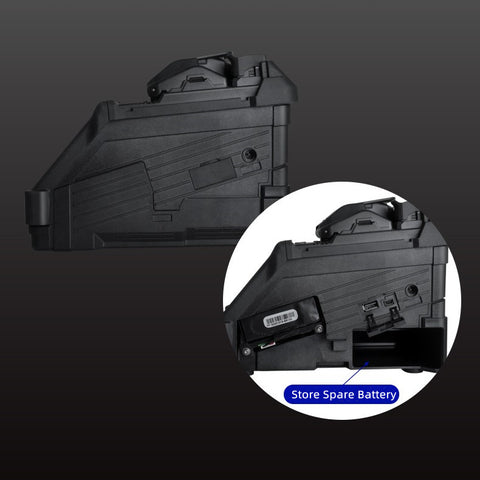 User Friendliness:
· Easy Fiber Protection Sleeve Positioning
The Fujikura 48S sheath clamp's shape is optimized for 60mm length protection sleeve. The length from the splice point to the edge of the sheath clamp is 30mm. Therefore, it is easy to center the protection sleeve after splicing just by using your finger as a reference point.
· Universal Tube Heater
The 48S fusion splicer supports a wide range of protection sleeve sizes of diameter up to 6.0mm.
· Tool-less Electrodes replacement
The 48S electrode comes as a full assembly which includes electrode mounting fixture and thumb screw, where the thumb screw can be easily loosened or tightened just by hand without any tools, thus enabling an easy electrode replacement.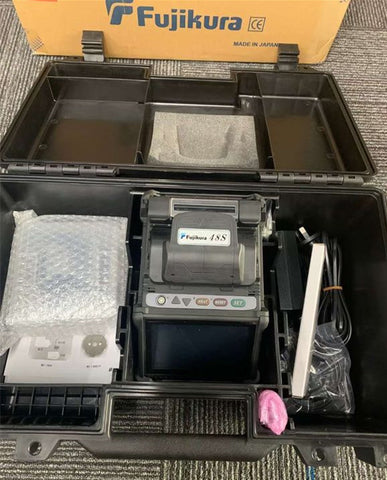 TECHNICAL SPECIFICATION
 Fiber alignment method

 Active core alignment

 Fiber count can be spliced

 Single fiber

 Applicable fiber

 

 Fiber type

 SMF(G.652/657), MMF(G.651), DSF(G.653), NZDSF(G.655)

 Cladding dia.

 80 to 150um

 Applicable coating

 

 Sheath clamp

 Coating dia.: Max. 3,000um
Cleave Length: 5 to 16um

 Fiber Holder

 Coating dia.: Refer to Options
Cleave Length: Approx 10mm

 Fiber splice performance

 

 Splice loss

 ITU-T G.652: Avg. 0.02dB
ITU-T G.651: Avg. 0.01dB
ITU-T G.653: Avg. 0.04dB
ITU-T G.654: Avg. 0.04dB
ITU-T G.655: Avg. 0.04dB
ITU-T G.657: Avg. 0.02dB

 Splice time

 Typical 7 sec.

 Applicable protection sleeve

 

 Sleeve type

 Heat shrinkable sleeve

 Sleeve length

 Max. 66mm

 Sleeve dia.

 Max. 6.0mm before shrinking

 Sleeve heat performance

 

 Heat time

 60mm mode: typical 25sec.

 Fiber tensile test force

 Approx. 2.0N

 Electrode life

 Approx. 5,000 splices

 Environmental Condition

 

 Temperature

 Operate: 10 to 50˚C
Storage: 40 to 80˚C

 Humidity

 Operate: 0 to 95%RH non-condensing
Storage: 0 to 95%RH non-condensing

 Altitude

 Max. 5,000m

 AC adaptor

 Input AC100 to 240V, 50/60Hz, Max. 1.5A
Output Approx. DC 19V, Max. 3..42A

 Standby Battery pack BTR-11A

 

 Type

 Rechargeable Lithium-Ion

 Output

 Approx. DC14.4V / 3,190mAh

 Capacity

 Approx. 200 splice and heat cycles

 Temperature

 Operate: -10 to 50
Recharge: 0 to 40
Storage: -20 to 30

 Battery life

 Approx. 500 recharge cycles

 Display

 

 LCD monitor

 TFT 4.9 inches with touch screen

 Magnification

 200 to 320x

 Illumination

 

 V-grooves

 LED lamp

 Interface

 

 PC

 USB2.0 Mini B type

 External

 USB2.0 A type

 LED Lamp

 Approx. DC5V, 500mA

 Data storage

 

 Splice mode

 100 splice modes

 Heat mode

 30 heat modes

 Splice result

 10,000 splices

 Splice image

 100 images

 Dimension & Weight

 

 Dimensions (mm) (without projection) (W x D x H)

 148 x 212 x 161

 Weight ( including BTR- 11A battery)

 Approx. 1.19 kg