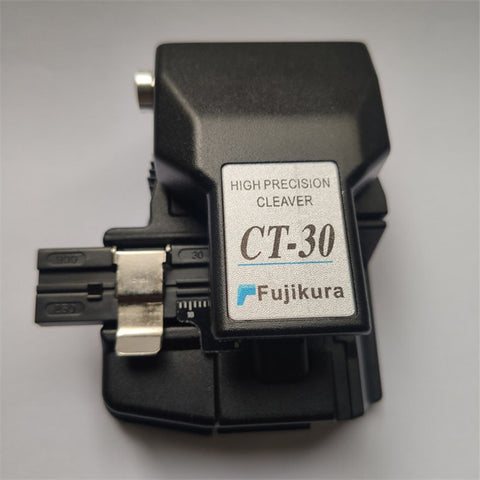 The CT30 Cleaver sets the standard for portability, reliability and ease of use. Available for either single fiber or ribbon splicing (up to 12 fiber ribbons) applications, the Fujikura Cleavers CT-30 are compatible with all AFL fusion splicers. The improved version offers a larger base for a more stable platform, improved visibility when placing the fiber, and three scrap collection options. Designed for excellent portability, the CT-30 Cleaver is equally at home in a splicing van or in a bucket truck and is ideal for FTTx applications. The 16-position blade yields 48,000 single-fiber cleaves, or 4,000 12-fiber ribbon cleaves before requiring replacement, and the built-in scrap collector conveniently stores fiber shards until they can be safely discarded.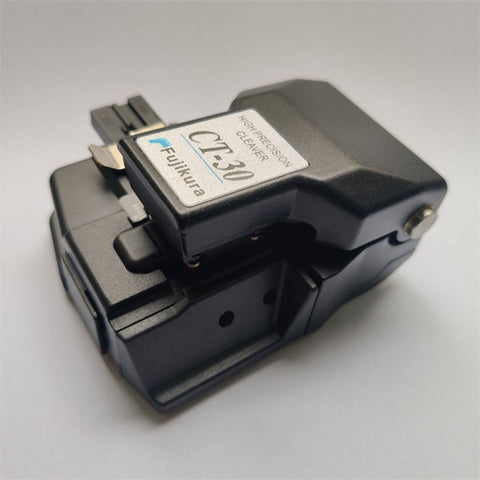 The
AFL
CT-30 Cleaver
 is packaged with three scrap collection options that allow the user to tailor it to their cleaving preferences. The Fujikura
CT30
 is delivered with the SC-01 Side Cover installed for users that prefer not to use an automated scrap collection system. For those that prefer an automated scrap collection system, the FC-02 Fiber Collector and two scrap box options are included. The FDB-02 Scrap Box is a smaller bin for users seeking a compact profile. The FDB-03 Scrap Box is a larger bin with sweeping brushes and static resistant surfaces for those users seeking to maximize scrap capacity. All Scrap options are easily configured by the user.


FEATURES & SPECIFICATIONS: 
* Single to 12 fibre cleaving capability Automatic cleaving blade rotation via wireless connection Easy to use – ready cleaver, load fibre and cleave
* Lightweight and compact Different versions to accommodate either single fibre adapter plates or fibre holders (for single/multi fibres)
* Up to 60,000 cleaves per blade Fibre off-cut management
* Precision cleaving of 125 μm cladded optical fibres
* Cleaving of single fibre or up to 12 core ribbon fibre Splicing or mechanical termination of fibre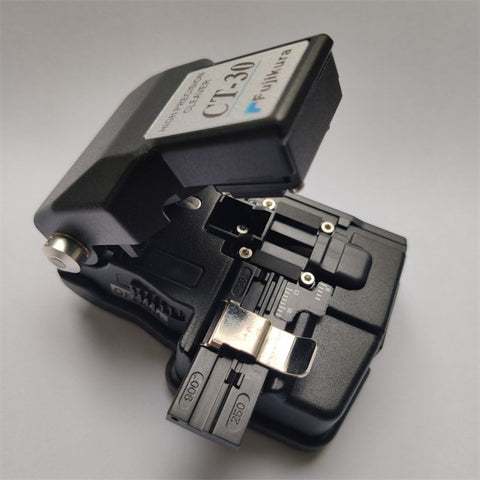 Fujikura-CT-30-Standard-package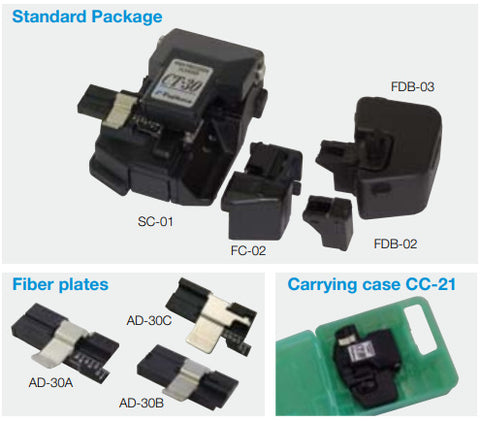 Applicable Fiber: Conventional silica optical fiber