What

 

is Optical Fiber Identifier ?
Optical fiber identifiers are designed to non-invasively identify continuous-wave signals in fiber optic cables. They are low cost, hand-held tools that identify signals in single-mode fiber without interrupting service or damaging the fiber. Optical fiber identifiers eliminate the need to open the fiber at the splice point for identification, eliminating the probability of interrupting service.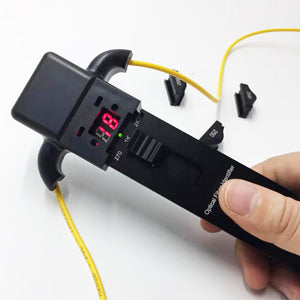 What does an Optical Fiber Identifier do?
An Optical Fiber Identifier can be used to detect the existence of a signal on optical fibers. OFIs are attached to a fiber, where they create a safe macro-bend and enable a minor quantity of light to getaway. Units utilize this light to identify the existence of a busy network, test tones or CW signals, and specify the direction of the signal.
Types of Optical Fiber Identifiers
Single Mode
Multi-Mode
Plastic Optical Fiber
Materials
Silica
Most Commonly Used Material.
Good For Transmission Of A Wide Range Of Wavelengths.
Can Be Used At Reasonably High Temperatures.
Can Be Doped With Various Other Materials.
Has High Threshold For Damage.
Fluoride Glass
Heavy Fluoride Glass Has Very Low Attenuation.
Difficult To Manufacture.
Poor Resistance To Environmental Factors Such As Moisture.
Good For Mid Infrared Range (2000-2500 Nm).
Phosphate Glass
Can Be More Advantageous Than Silica With A High Concentration Of Doping Ions.
Crystallizes In At Least 4 Different Forms.
Chalcogenide Glass
Elements In Group 16 Of The Periodic Table.
React More With Electropositive Elements.
Versatile Compounds.
Can Be Crystalline, Amorphous, Metallic, Or Semi Conducting.
Can Be Used For Far Infrared Transmissions.
Main Function:
Main Function Optical cable search and identification are key steps in the preparatory work for the construction, installation and maintenance of optical cable lines. Therefore, the optical cable survey instrument is widely used in the construction, cutover, maintenance and resource survey of optical cable lines. When using the fiber optic cable survey instrument, engineers only need to connect the meter at the office end and tap the fiber optic cable at the remote end. The meter can convert the tapping information into audio and video signals, and can easily identify the target fiber optic cable they need to find.
Additional Features ;
Additional features for optical fiber identifiers include an indication light activated by signal transmission, low-battery indicators, a self-testing option, a fiber optic probe, a carrying case, and interchangeable heads. The interchangeable heads for optical fiber indentifiers can be fitted for jacketed fibers, coated fibers, or ribbon fibers. Although most optical fiber identifiers are battery-operated, some products can be powered by external battery packs or electrical currents.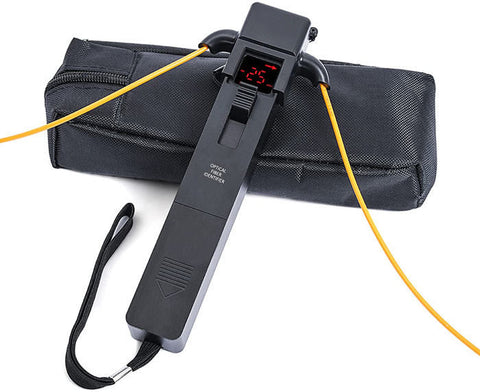 Cost
The most important factor at play would be cost. You will need to balance which features you want and are most important to you with which features you are willing to sacrifice. Finding an Optical Fiber Identifier that fits your needs may be difficult, but Splicer Market offers many different Fiber Optic Identifiers for any budget.
Conclusion
At Splicer Market, the Optical Fiber Identifier offers a range of basic, affordable models to high end, advanced models. The Fiber Optic Identifier for sale should satisfy any needs the customer has and more.
If you have any specific needs, Jack offers custom Fiber Optic Identifier with any specification you desire. Feel free to contact Splicer Market if you are looking to purchase an Optical Fiber Identifier that does not appear for sale on the website, or if you would like to customize a one that is for sale; please feel free to contact us.