With the rapid development of optical fiber technology and the deployment of new optical fiber networks, OTDR testing technology has gradually become critical for some tasks. These tasks include building, validating, maintaining and troubleshooting different fiber optic systems. Using the best OTDR tester, faults can be easily and accurately located.
What Is OTDR Tester?
Simply put, an optical time domain reflectometer (OTDR) tester is an instrument used to design a visual image of the path of a fiber optic cable. The instrument analyzes the data, which can provide information about the properties and conditions of the fiber. In addition, it provides information about passive optical components in the cable path, such as connectors, splitters, connectors and multiplexers. The test captures this data, analyzes it and stores it. Finally, it can be called when the same cable needs to be evaluated.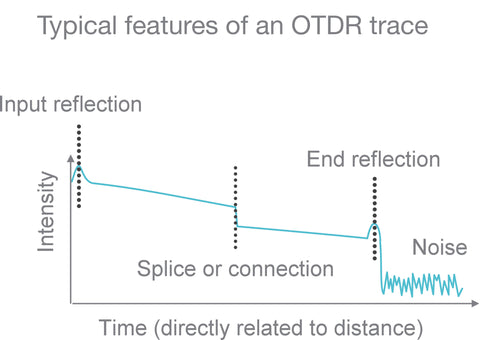 OTDR testers are inevitable for organizations that recognize fiber performance and identify any problems with existing fiber optic cables. Since fiber infrastructure is responsible for the quality of the network you get, the cables and infrastructure are properly certified before use. The corresponding certification is handled by the company that lays the fiber through the different devices. One such device is the OTDR tester. It is important to use an OTDR tester so that it can accurately locate and handle faults. With this overview, you can now easily select the best OTDR tester from the following sections.
Best OTDR test equipment
The choice of OTDR equipment largely depends on the project you are going to use it for and your budget. However, here is a list of the OTDR equipment that network engineers use most often to identify and correct fiber failures.
List of The Best OTDR Tester
Check out the thorough reviews of the best OTDR testers in 2022 below.
1.EXFO OTDR Singlemode 1310/1550nm MAX720C Access SC/APC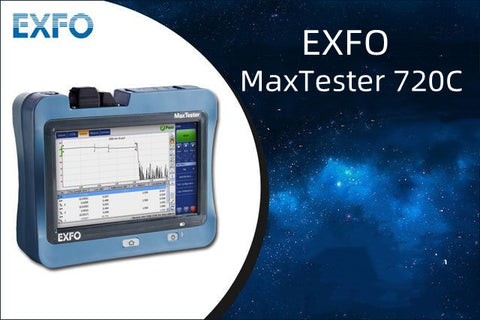 The MaxTester 720C (MAX-720C) provides first-time-right fiber characterization thanks to its short dead zones and effective dynamic range. This compact quad unit is optimized for singlemode and multimode field testing for data centers, private/enterprise networks, FTTA and fronthaul deployments.
The MAX-720C includes a power meter, a visual fault locator, Wi-Fi connectivity and high-resolution inspection capabilities, making the unit a complete and an integrated contractor tool.
Key Features
FTTx/PON testing through splitters (up to 1x32)
Data-center tier-2 troubleshooting
Access network construction and troubleshooting
Fronthaul/backhaul (FTTA, FTTT, remote radio heads, DAS and small cells)
Private/enterprise networks
LAN/WAN characterization
Central-office (CO) link certification
2.ShinewayTech OTDR MTP-200 CWDM / DWDM / PON 3-in-1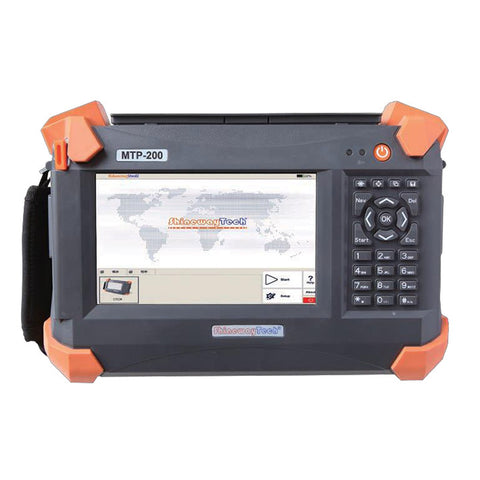 Shineway MTP-200 series are the compact multi-functional platform, which are specially designed for FTTx/WAN applications and can meet all test requirements of installers, contractors and service operators during network installation, construction, maintenance and troubleshooting. It is convenient and accurate for auto/manual testing, multi-wavelength testing and multi-functional analysis.
Key Features
Dynamic Range up to 50dB
Short zone: EDZ 0.8m, ADZ 4.5m
Auto/Manual test and analysis
GR-196-CORE (.SOR) file format
SOR and JPG file format
Flexible file Naming
Multi-wavelength testing
LAN/WAN/FTTx application
Visible laser source function
In-Line test and through Splitter test (1625/1650nm with filter)
OTDR Module up to four wavelengths, SM/MM Option
Fault locating, fiber length/loss/return loss measurement, connector/ splice/ splitter/ macro bend/fiber-end detection
3.hand-held OTDR HSV-610 OTDR 1310/1550nm 32/30dB Tester Machine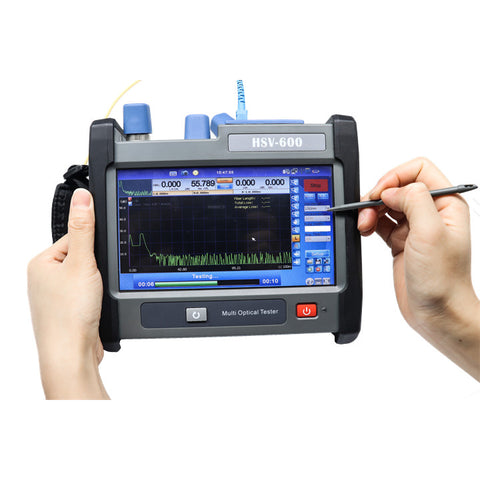 HSV-600 series are high performance and accessiblity OTDRs created by Hong Kong Honserv Limitied with U.S. technology 7-inch, outdoor enhanced touch screen for you to get visual GUI. Handy, lightweight, powerful, 12-hour autonomy unprecedented testing experience is very suitable for fiber optic test environment HSV-600 series have outstanding optical performance, exquisite appearance, accurate and stable internal parameters.
Key Features
7-inch full touchscreen; Professional and efficient UI (user interface) and UE (user experience)
12-hour operating time
Fully featured: Options support VFL, power meter, light source and Fiber Inspection Probe
Handy, lightweight, fully functional, tablet-inspired design
Excellent optical performance: Event dead zone: minimum 0.8m;
Resolution with the shortest distance:5 cm
Dynamic range: 30dB-40dB
4.Fluke Networks OptiFiber Pro OTDR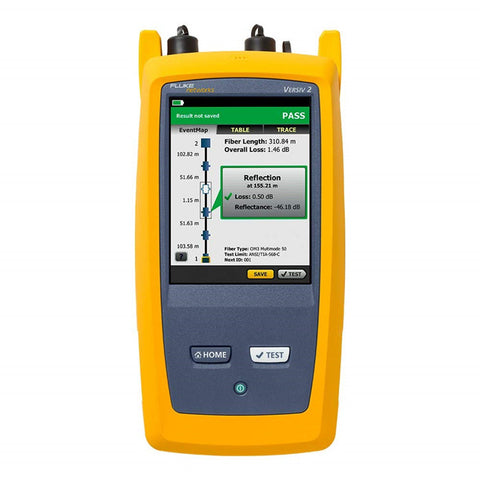 OptiFiber® Pro is the industry's first OTDR built from the ground up to meet the challenges of enterprise fiber infrastructures. This troubleshooting and certification tool combines uncomplicated power, unparalleled efficiency, and the exact functions needed for troubleshooting campus, data center and storage fiber networks.
The OptiFiber® Pro OTDR elevates fiber testing with the industry's only smartphone interface that turns a technician into a fiber expert. The DataCenter OTDR configuration eliminates uncertainty and errors that occur when testing data center fiber. Its ultra-short dead zones enable testing of fiber patch cords in virtualized data centers. These capabilities, plus the fastest-in-the-industry trace times, make the OptiFiber Pro OTDR a must-have tool.
Features
Extremely short event and attenuation dead zone
DataCenter OTDR™ mode
Two second trace per wavelength
On-screen help with corrective actions
Graphical EventMap™ view
Dynamic project and user profile management
FiberInspector™ probe
How To Choose The Best OTDR Tester?
Stay away from perplexity and end up with the best OTDR tester by considering the following factors.
There are various types of OTDR test equipment available for users in the market:
1. Types of OTDR testers
The 3 major types of OTDR testers are described below:
i. Benchtop OTDR
Benchtop OTDR testers are used in labs and production facilities for high sensitivity and accuracy. Often they feature a huge display with more ports for easy MPO testing and also include a power outlet.
ii. Hand-Held OTDR
As the name suggests, a handheld OTDR tester is a portable instrument weighing less than 1kg. In most cases, they are powered by batteries. Because of the simple interface, it's easier for technicians to understand how it works. It supports various connectivity options including Bluetooth and Wi-Fi. These options help testers communicate test results and certain other work-related commands effectively.
iii. Rack-Mounted OTDR
They are high-capacity OTDR devices designed for use with network monitoring equipment. In addition, they are combined with optical switches that allow them to rotate automatically between fibers.
2. Wavelengths
When you perform the test with the help of an OTDR, the wavelength set on the tester must match the wavelength used for transmission. The following points must be considered:
For single-mode fiber links, 1310 nm and/or 1550 nm and/or 1625 nm should be used
For multimode fiber links, use 850 nm and/or 1300 nm wavelengths
For troubleshooting single-mode fiber optic links, 1650 nm or 1652 nm wavelength must be used.
When troubleshooting single-mode fiber links carrying CWDM transmissions, wavelengths in the 1270 nm to 1610 nm range must be used with a channel spacing of 20m.
For those fiber optic systems that use the FFTX architecture, the 1490 nm wavelength must be used.
3. Dynamic range
The dynamic range determines the distance that an OTDR tester can measure. This aspect is measured in decibels (dB). Sometimes, displaying ranges or distance ranges can be misleading. It may refer to the maximum distance that a specific OTDR tester can display. Knowing the maximum distance you may need to test is critical. Also refers to the dynamic range of the OTDR. You can calculate your needs by determining how many connections and FOSCs you will have on your traces and adding the dB/km loss of the cable.
For a wavelength of 1310 nm, the dynamic range is 35 dB, and the typical maximum OTDR measurement range is 80 km. For 1550 nm wavelength, the dynamic range is 50 dB. Typical maximum OTDR measurement range is 220 km.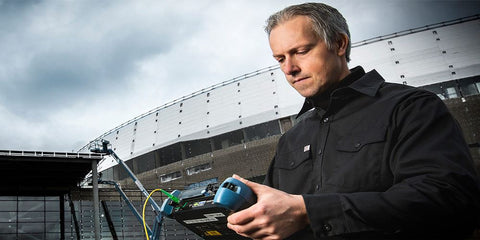 FAQs When Choose The Best OTDR Tester
1. How Does an OTDR Tester Work?
An OTDR tester directs a pulse of optical energy (i.e., optical power) generated by a laser diode to a single end of a fiber. Additionally, photodiodes can quantify light power or return light energy over time. Then, it converts it into electricity, which is sampled, enlarged and displayed on the screen.
The total cable length and the position of each event are calculated from the round-trip time of the light pulses passing through the fiber core. In addition, insertion loss is calculated from the proportional amplitude change of the backscattered light.
2. How is OTDR used in fiber optic testing?
A fiber optic OTDR tester (also known as an optoelectronic OTDR test instrument) is used to qualify an optical fiber. This instrument infuses a sequence of optical pulses within the fiber taken under test. Subsequently, it extracts light that is reflected back from the same end of that fiber. The best OTDR tester can precisely measure fault in the fiber optic cable. 
3. What is bidirectional OTDR testing?
OTDR testing needs access to only a single end of the fiber optic cable. The attenuation and distance measurements are dependent on optical light backscattering and the Fresnel reflection principles. Therefore, the scattered and reflected light photons could be inspected at the same location where the test signal was sourced.
4. What is the need for post-processing software?
If an OTDR tester has post processing software, it makes it simpler to assess and document test results.
5. What is the recommended display size for an OTDR tester?
5 inch large display screen is recommended. It supports decent trace analysis.
6. What is the role of wireless connectivity in an OTDR tester?
Bluetooth and/or WiFi technology allows easy exporting of test results to PCs or laptops or tablets.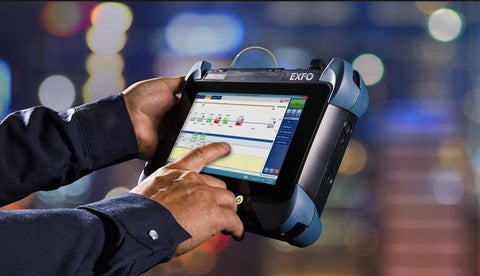 The testing procedure with OTDR
OTDR is the only device that can troubleshoot fiber optic faults after determining the cause and kind of fault. The faults may occur because of bad connectors; there may be bends in the cable or some breaks.
OTDR uses both unidirectional and bi-directional testing techniques to identify the faults in the cables along with the distance. Unidirectional tests are single-ended while bi-directional tests are dual-ended tests and are considered more accurate as it state the actual loss incurred to the cable.
Follow the instructions below to operate the OTDR properly:
Turn on the OTDR, check the battery and functional display on the screen
Inspect the cables, chargers, and other tools.
Connect the required cables to the output port and testing cables on the other end.
Manually adjust the parameters for testing the cables or pick the pre-set routine.
When all is done, you are good to run the test.
Record the results and trace the faults to correct them.
After you have saved and uploaded, the results, ensure you disconnect the cable, adaptors, and connectors carefully.
Conclusion
Recognizing faults in fiber optic cable systems is inevitable to ensure flawless communications. When you use the best OTDR tester, the measurements of all kinds of data related to the cable are always accurate. After detecting a fault, the tester processes it to resolve it. The intuitive display interface makes it easy to understand the measurement data. Most of these instruments can be used as cost-effective solutions for different applications related to fiber optic communications.