In the field of fiber optics, it is very necessary to use fiber optic cables with clean and smooth end faces. The fiber optic cleaver is a crucial tool for low-loss and low-reflectance fiber optic splices or terminations, especially when using the pre-polished connectors with internal splices. The fiber cleaver usually works in conjunction with fusion splicers to do optimum splicing jobs, and is the key to quality connectors and splices.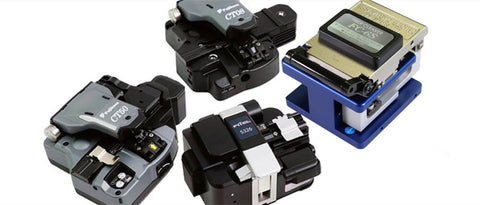 Select fiber cleavers according to your application requirements. Fiber cleavers, designed for fusion splicing, need a low average angle that is one degree or less, whereas cleavers appropriate for mechanical connectors require angles below three degrees. 
There are way too many choices on the market, including knock-off brands that are cheaply built. To help you find the fiber cleaver brand, we analyzed & researched all the features that are right for you and came up with a list of 3 different options to purchase.
Read on and find out which is right for you.
Fujikura CT50 Fiber Cleaver: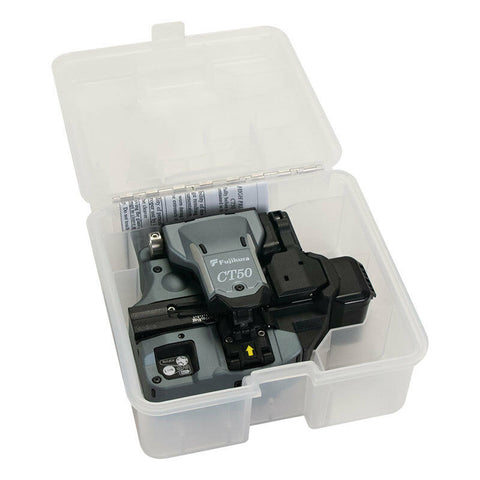 The CT50 Optical Fiber Cleaver offers enhanced drop impact resistance compared to existing cleavers and allows workers to replace the cleaver blade, providing customers with a drastic reduction in handling time and maintenance costs.
The AFL CT50 Cleaver changes the position of the cleaving blade automatically and in response to the cleave quality of the optical fibers as seen by the fusion splicer. The fusion splicer will then rotate the blade once it deems the quality is poor. In addition, the Fujikura CT50 completes cleaving of the fiber and scrap collection in the same step.
Features
* 60,000 fibers blade life(3 height x 16 positions)
* Wide lever opening angle allows easy fiber placement
* Single-action operation including fiber scrap collection
* Applicable up to 12-fiber cleaving
* User replaceable fiber clamps and cleaving blade
* Automatic cleaving blade rotation via wireless communication

Fujikura CT08 Fiber Cleaver: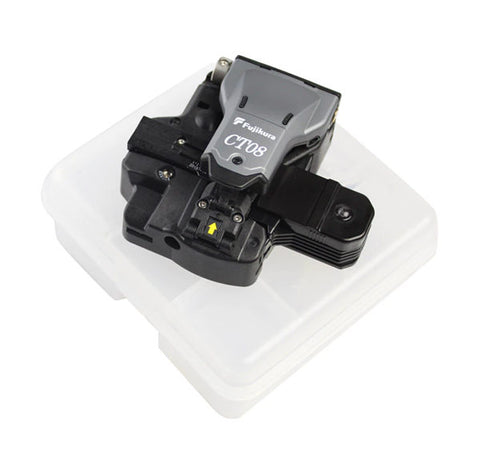 The Fujikura CT08 Fiber Cleaver sets the standard for performance and adaptability. It is made to suit any application and budget, while maintaining the highest quality cleave performance required for splicing and mechanical terminations. Fujikura's flagship cleaver, the CT08 Cleaver, is capable of cleaving single, combining seamless adaptability with precision performance. Its automated off-cut collection system and compatibility with Fujikura's fiber holder system set the standard for ease of use.
Features
* Blade life up to 48,000 cleaves
* Easy fiber placement with wide lever opening
* Simple and single-step operation
* Dedicated for single fiber cleaving.
* No tool necessary for blade rotation
* Absolute robustness
* Replacement of fiber clamps and cleaving blade by user
Sumitomo FC-6S Fiber Cleaver: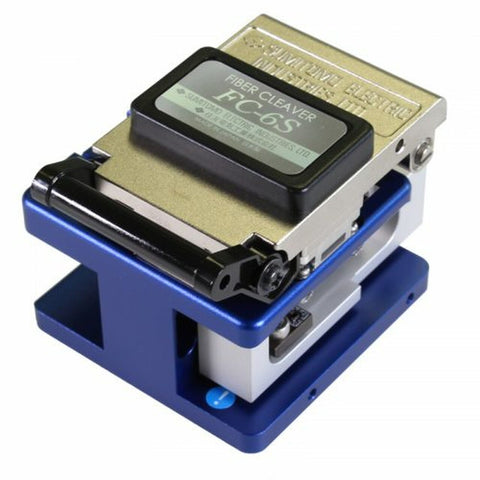 The Sumitomo FC-6S Cleaver is one of the most popular fiber cleavers in mainland China. It has attracted the attention of many 'clone manufacturers' who build unauthorised counterfeit copies of our cleavers and cleaver cases. These are offered for sale worldwide on the internet. Such products are not endorsed by Sumitomo and their manufacturers and sellers are not authorised by Sumitomo. Genuine Sumitomo FC-6 series cleaves made since 2014 have an anti-counterfeit label on the cleaver lid and on the cleaver case. The appearance of the label varies according to illumination conditions.
Features :
* 12 Position Rotatable and Replicable Blade
* High Precision Cleaves
* Compact body& light weight
* Provides approximately 36,000 cleaves
* 250μm Coated or 900μm Buffer fiber