FUJIKURA
Regular price
$10,000.00
Sale price
$10,000.00
Unit price
per
Sale
Sold out
Fiber Splicing Machine Fujikura 70S For Sale
The Fujikura 70S is the world's fastest and most robust core alignment fusion splicer. Incorporating the proven ruggedized features pioneered by Fujikura, the 70S has added automated and enhanced user control features to increase splicing efficiency. A user programmable, automated wind protector expedites the splicing process by automatically closing to initiate the splice process, and opening upon splice completion. Fully programmable "auto open sheath clamps" open one or both sheath clamps, after the tensile test, to prepare the fiber for removal. A new automated "clamshell design" tube heater applies heat to both sides of the splice protection sleeve resulting in a 13-second shrink time. The result is a total splice process time of approximately 21 seconds! Ruggedness and durability are greatly enhanced by a mirror-less optical system and "severe-impact resistant" monitor. Battery capacity is now 200 splices/shrinks. An innovative transit case doubles as a built-in or mobile workstation and makes splicing easier than ever before. In an industry first, the 70S is also equipped with Bluetooth® technology. This allows the splicer to actively communicate with Bluetooth enabled fiber preparation accessories making maintenance of fiber preparation tools easier than ever! The 70S will also be available without Bluetooth functionality.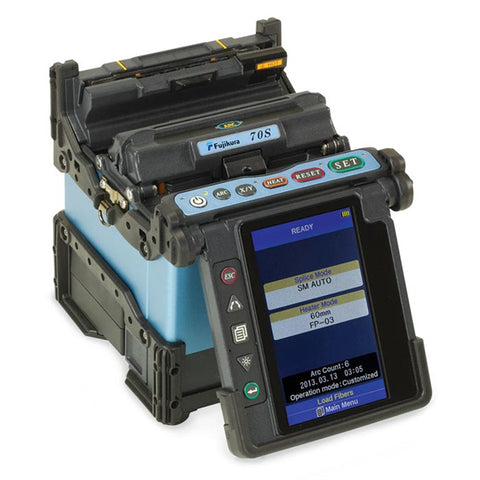 Features
• Bluetooth wireless communication
• Automated and programmable wind protector
• 13-second automated tube heater
• Fully ruggedized for shock, dust and moisture
• Li-ion battery with 200 splices/shrinks per charge
• 5 mm cleave length for splice on connector or small package needs
• Sheath clamp or fiber holder operation
• On-board training and support videos
• Multi-function transit case with integrated workstation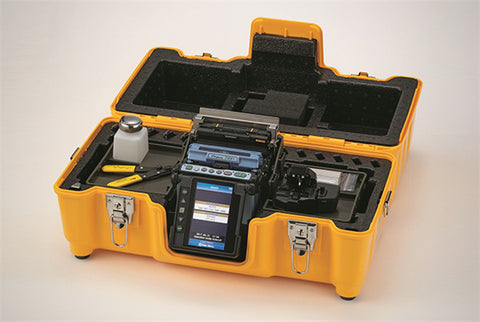 About Fujikura Fusion Splicing Equipment

As a wholly owned subsidiary of Fujikura, AFL is the exclusive supplier of Fujikura fusion splicer products in North America. Fujikura is the world's best-selling brand of fusion splicers, known for their ruggedness and reliability. AFL complements this with unmatched levels of service and support. Our team understands the high cost of equipment downtime and we are staffed to provide our customers with one to two-day turnaround times in most cases. We also offer 24×7 technical support.

AFL offers an extensive lineup of fusion splicers for field splicing applications. From the world's smallest fusion splicer to the world's first fully ruggedized splicer, Fujikura has been the pioneer in fusion splicing technology since 1979. Current generation field models offer unmatched speed, ruggedness and reliability.
View full details